BORISLAV TRIFONOV IOCHEV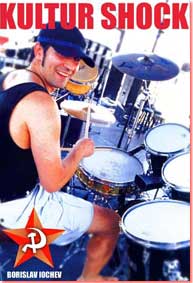 The legend began on the morning of February 27th in the year 1963 at approximately 10:00 a.m. With a slap and a wail, a child of male gender came into the Old World as the result of his parents attempt to save their long-separated marriage. As the legend goes, the child was "Born in Shirt" a term that means "covered in a layer of really precious goo" and considered a sign of luck by the gypsies. Good thing, because his loving mom did not have enough milk and the little infant was fed instead, by the well-endowed gypsy mama in the next bed. This was a turning point for the boy, not only did he have his first gypsy milk-brother, he also developed a fascination with large, watermelon-like, gypsy breasts and accordion music.
Growing up in the industrial outskirts of Sofia, Bulgaria, Borislav Trifonov Iochev was exposed at a young age to blue-collar entertainment. As he foraged through local taverns to bring home his drunken uncle, his head was filled with hard-core, gypsy music full of adult language and fast add time signature beats, all of this making him grow up fast and learn early the difference between girls and boys.
From this time, he was hooked and everything went downhill. It wasn't any more a question of a day job or music; it was question of Rock-n-Roll or Gypsy Rumba or both. Alas, he didn't get tremendous support from his parents. Both of them had played music previously and were way too familiar with the lifestyle of the musician type. His father Trifon Ivanov Iochev played trumpet for a short period of time but soon found himself more interested in boxing (think Rocky Balboa of Bulgaria). His mother Veska Borisova Balkandjieva still talks about how she played the violin before the family pig found it and ate it.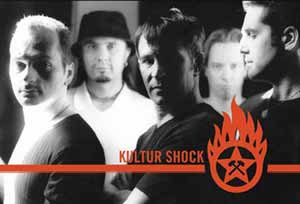 Anyhow, in 1984 Boris finally came to his senses and started his serious education with Boris Dinev, professor in the Bulgarian State Conservatory (now teaching in Belgium), and member of world renowned percussion ensemble "Polyrhytmia". For the next two and half years Borislav Trifonov Iochev reduced the heavy drinking to virtually nothing and didn't date any girls or boys, completely devoting himself to 8 0 hours a day or night studying jazz drumming, vibraphone and marimba.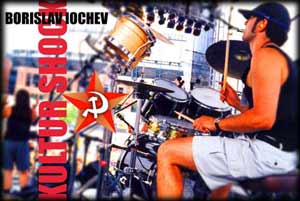 In the end, all of this masochistic activity paid off. His band "Orion" became so well known in the Old Country that the state communist owned record label "Balkanton" (the only legal one in the whole country) signed them up. Their success took them to different world stages - San Remo'90 Music Festival, Italy and Hamburg Musik Woche'90, former West Germany. But the end of his career drumming for "Orion" came quickly after Radio Liberty (Radio Free Europe), an American Political Radio Station based in West Germany, broadcast one of the bands songs with heavy political lyrics -"I have no sanity left". Suddenly going back home would equal going from the Sofia International Airport straight to the State Prison for Political Decedents.
So in July of 1991 he came to Seattle, Washington where he started the search for his identity - trying out bus boy in a gay club, pizza delivery driver for "Romios" and door to door "Kirby" vacuum cleaner salesman. Then in 1995 he met other believers in the contagiousness of gypsy culture - former musicians from Sarjevo National Radio and Television Filcharmony Orcestra. In no time, they found that they had an identical purpose in life: to come to The Richest and Most Powerful Country in the World and redefine and revolutionize rock music as we know it today! And so the band "Kultur Shock" was born. Since then, the Northwest has never been the same.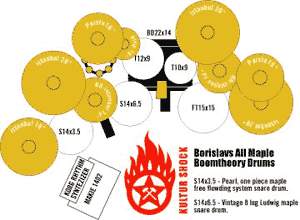 As a side project, "For Sale", is completely different animal. Here Borislav Trifonov Iochev shares creativity with Val Kiossovski - best man of his first marriage, ex-Orion member (lead vocal and guitar) and bartender at the Crocodile. The first time they played together was in 1978 doing a cover of "God of Thunder" by Kiss. This was considered anticommunist propaganda and very disrespectful of the political system in post communist Bulgaria - a place where (at the time) nobody was permitted to sing in English and it was mandatory that 40% of your repertoire to be in Russian.

And now, thirty-seven years later, the legend lives on in America. In fact, some gypsy-lovers think Borislav Trifonov Iochev might be the reason the people call the Northwest, great. So if you have large, watermelon-like, gypsy breasts or love accordion music, go see him play.

I also can be contacted by email at biochev@starbucks.com Borislav appears courtesy of Boom Theory Drums