EVANS DRUM HEADS SPEAK FOR THEMSELVES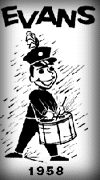 Evans began making drum heads over 40 years ago in 1958. At this time, they developed an All-Weather head made of Mylar that proved to match the sound of the traditional heads made of calf skin. They demonstrate the durability advantages of the Mylar heads by pouring water on them as well as having people stand on the heads. Evans continued to try to simulate the calf skin heads by first lightly sand blasting the surface and then developing a coating process that better caught the brushes, like the pores of calf skins. Although staying a low-key company, Evans continued on to become the technological leaders in the business. By the 1970's, they were creators of a variety of innovated drum heads, such as the "sparkle" heads, the first clear or "glass" heads, and the very unique Hydraulic heads, which had two plies of drumhead film with a thin layer of oil between the plies for a reduction of resonance and an emphasis on the drum's lower overtones. In the 1980's, they appreciated the need for better hoops and therefore created the fiberglass hoop to better fit irregular shells. They continued research on hoops, using computer aided design and manufacturing, and soon created a superior hoop that fit drums with perfection. In the 1990's, staying on the path of revolutionizing drum head construction with advanced technologies, they hired Bob Gatzen, a 25 year veteran of drum research, development, and design. He came to Evans with the goal to produce heads that would increase the dynamic range of the drum and bring out character of each drum. This resulted in the creation of the Genera line and the EQ system. Today, I use both of these.
I recently switched from Aquarian Drum heads to Evans...

Originally it was because they are more reasonable in price, but now after playing on them, I realize that Evans heads are a superior product. I'm currently using the Genera coated snare head.It's a single ply head which gives me a brighter sound with more overtones and there is a muffle ring which helps cut out unwanted overtones,I like this because it catches the sound of the grace notes when I play flams and lite accents. And if your a heavy hitter, they have the Genera HD 2 ply, which is much more durable.But if you want to keep the warm open sound that you get from a single ply head and have the durability too, Evans offers the Power center, which is single ply but has a reinforcement circle in the center. As for my toms I prefer to use the G2 2ply clear heads because I like the lower overtones and dark sound. They also have coated single and double ply tom heads..(so Many choices..) it all depends on the sound you prefer...A great bottom head for the toms is also offered by Evans , it's called the Resonant Glass, they are thinner but make for a good combination with the two ply top heads, the result is a more sustaining tom sound.... Last but not least are the Bass drum heads. I use the EQ4, which is single ply and has an internal muffle ring, resulting in lower tones with a punch. I recorded with this head and the results were impressive!...But that's not all. Evans also has the EQ1, which is just as good but with some added features.It is also single ply, and in addition, it has an adjustable internal muffling system and a removable E- ring,and it also has dry vent holes which let air escape and improves feel and increases attack. I bet after reading this, your thinking, Man, I didn't realize how high tech drum heads could be. I mean, I always thought that drum heads were just a circle of plastic attached to a hoop. But there definitely is some serious thought in developing these heads, especially when it's done by Evans.Evans has a long history of being at the forefront of drum head technology. Check out there web site it gives a pretty interesting history http://www.daddario.com/evans.html




*Pictures taken from the Evans Drum web site.