KII Kay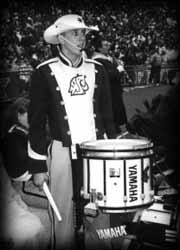 Been playing since I was 7...Went to WSU on a music Scholarship... Hated it... Heavily influenced by Matt Cameron, Chad Gracey, Ed Thigpen... Love Jazz, Rock, Classical, Drum Corps... Marched w/Boston Crusaders, 1996... Marched with WSU Cougar Marching Band for 4 years...Played @ Rose Bowl 1998...Been in several unheard of bands:

Mean Season 1992
Wirm 1997
Magic Action Band 1998 - 1999
Bonzai Grandpa 1999 - 2000
Loophole 2001 - 2002

Currently playing with the band Static Radio You can contact me at kiikay@hotmail.com.