PAUL JONES (Shaggy)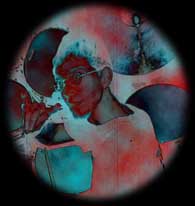 HELLO SEATTLE!!!!
My name is Paul and I am a resident of Oregon. I play with the band Flaverpak (not, not the frozen foods!!, copyright and all.....) I have been playing for about 12 years and have done a variety of cool things. I joined the Marine Corps Band and attended the Armed Forces School of Music. Talk about a sweet gig!! I have had the fortunate opportunity to sit in with the likes of local powerhouses such as The Jive Talkin' Robots and the great blues man Robbie Law. I spent a couple of summers doing Drum and Bugle Corps, which is a great learning experience for any drummer who has not had the opportunity. My current project, though is where I have been placing the majority of my time. Flaverpak was born and bred in early 1999 (the year of our master, Prince) and has become a powerhouse of progressive funk featuring some of the finest players in the northwest. In an effort to better promote ourselves, www.groovenw.com was created and became a monster that has gotten out of hand. We now promote and are linked to, well, just about everything that we could get our hands on in the northwest. Although still small we continue to grow, and if you would like to be a part of this, just let me know. Enough about everyone else, more on me...... I am classically trained as both an orchestral and concert percussionist and only started playing drumset about 6 years ago. In that short amount of time I have become fairly well known throughout my little area and have been frequently asked to play with a variety of great musicians.
My Equiptment: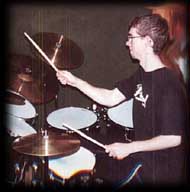 Forest Green Premier Marquis Signa: 10,12,14,16, 18x22
Premier and Yamaha hardware
Tama Iron Cobra Double Bass Pedals
Paiste Sound Formula Cymbals: 10" Splash, 13" H.H., 16" Thin Crash, 17"
Traditional Full Crash, 20" Ride
Toca 4" and 6" timbales
LP Loud Ass Block!!
LP Rock Tambourine (Everyone should have one!!!) Vater Manhatten, Superjazz, and Fusion sticks
And a comfy little throne courtesy of Gibralter.
If you are interested in playing with us or just playing with me (in a musical sense, I am married) please feel free to contact me at any time. (503) 304 8294 or if you think that Flaverpak or http://www.groovenw.com can help you in any way, please contact us there or by e-mail toflaverpak@home.com
Keep drumming and support your local musician! I am currently pursuing an endorsment with Premier Drums, so if you know a rep. that I don't, tell him to cal me!