Personal History
---

I was fairly small when becoming interested in drumming. However, I started really only playing drums just a handful of years ago, doing the typical get together with friends and jam sort of thing. We didn't really have any songs down or anything, just played original music. I've been fortunate in the sense that I haven't had to play any cover tunes, and it's always been original things, which is a relief for me because I don't know if I could do a classic cover song any justice! :)

Drumming became even more of an interest of mine during the two years I lived with Wells Hamlin, who many may know from a band called the Super Sonic Soul Pimps. He was invaluable to me as I was able to go on tour with them, and I was drum teching for him (even before I played.) He's a SUPER accomplished drummer, one that I would put up in the top 1% in Seattle, so that was a great opportunity, and I feel that's a big reason why I started. We both shared a love of Rush, Yes, and King Crimson and so we clicked.

I was also introduced a few years ago to Zach Orgel, the bass player in a band called Bloodhag... up until I joined, they were just three guys and a drum machine. They asked me to try out and found that my drumming fit into the scheme of things. They played very short, fast heavy metal songs about science fiction authors. The short songs allowed me to really get creative on my drum parts, as I didn't want any of the songs to get stale. I tried really hard (as do all drummers) to not be to redundant or derivative. We made two recordings when I was with the band... one was a record called Hooked on Demonics, and the other was a demo called G.L.O.W. (Gorgeous Ladies of Writing)... we really tried to push the literary/literacy thing on our crowds, often handing out applications to the Seattle Public Library, and always throwing books at the audience. It was a lot of fun, and I learned a lot about drumming... we toured two times on the West Coast, going as far South as Los Angeles. I feel that my drumming seriously elevated what Bloodhag had to offer in terms of song writing and enhancing that whole 'metal' sound. Unfortunately, all good things come to an end and we parted ways about a month ago.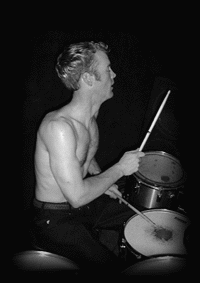 I was already involved with my current project, Attacko, and that was starting to really get somewhere, and the professionalism involved in the latter project was really much more appealing to me... So far with Attacko, we have about 14 or 15 songs down (in just three months! I'm stoked!) and continue to write invigorating music (to my ears...) that is much more suited to my musical tastes. A lot of the songs have that 3/4-6/4 sort of shuffle feel, allowing me to really work on my fluidity and solid time keeping, while still allowing me to be creative with odd-time. We haven't recorded yet, but Thomas and Dave did do a recording at Egg studios with Chris Lockwood (EXCELLENT drummer from Super Deluxe) sitting in on the skins for that session, which produced 6 songs total. Those are really big shoes to fill, and I hope that my playing touches on what Attacko is all about. Chris did an outstanding job at 'serving the song'... I'm excited about recording with Attacko very soon. I am however very involved in all things Attacko!!!
I'm 28 years old now. I am self-taught and have a strong desire to continue learning all things drums! The extent of my training is jamming with friends and being a member of a band for that past two years. I am actually very interested in starting to take lessons (I don't think that's a bad thing, I may actually have the patience now to follow through with that!) I have a strong (not enough!) 'ear' for the progressive sound, and love to play odd-time/odd-meter music, most likely much to the chagrin of bandmates! I'm just going to continue playing music, I love to do it, and continue practicing the drums, and hopefully quit my day job... ;)